Course: Specific regulation of the real estate sector
If you enroll before September you will benefit from a 5% discount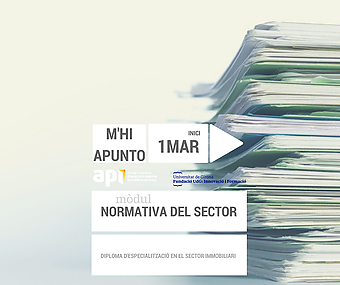 More information:
Date: Thursdays, from March 1 to April 5, 2018
Hours: 16:00 - 20:00
Duration: 20 hours
Place: School APi Girona (Eiximenis, 18, mezzanine - Girona)
Typology: Specialization course in specific regulations of the real estate sector.
Temary:
Speakers:
Balbin, Carles. Degree in Law. Lawyer. Legal advisor to the College of Girona. Managing Partner Balbin Advocats.
Donés, Josep. Secretarii APCE of Catalonia.
Ferrer, Albert. Marsh Financial and Professional Risk Executive.
Garcia, Jordi. Superior architect specialized in building, urbanization, urbanism and valuations.
Labastida, Francesc. Architect. Technical advisor to COAC and member of the CTE Commission of the Superior Council of Architects' Colleges of Spain.
Pérez, Antoni. Associate Counsel of Rebled Advocats.
Pou, Josep Maria. Lawyer. Legal Adviser of the Association of Surveyors and Technical Architects of Girona. Founding partner of Pou Advocats SLP.
Roig, Xavier. Operational Director for the Coordination of Information Systems and Citizen Care. Housing Agency of Catalonia. Manager of the Registry of Real Estate Agents.
Prices and discounts:
Price: € 380.00
Discounts:
€ 304.00 Collegiate / associates of the College API and employees.
361,00 € Professional colleges.
Evaluation system:
Minimum attendance at 80% of sessions.
Students who pass the course will receive a Certificate of training course by the Fundació UdG: Innovació i Formació.
Inscriptions: srodriguez@apigirona.com · fundacioudg